The Rev'd Howard Hynes
Howard was ordained to the deconate and priesthood in 1983 after graduating from Trinity College, Toronto.  He served as a parish priest for 25 years in the Anglican Church of Canada, 10 of which were spent in Labrador. He joined the Anglican Network in Canada 2008 and, since that time, has been the pastor of St. Stephen the Martyr.  Howard has three young adult children.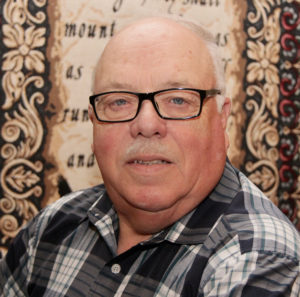 Rector's Warden
Herman Russell
Herman and his wife Rita have been married for 49 years and both are cradle Anglican's having served in several capacities over the years.  They left the Anglican Church of Canada (AOC) several years ago to join the Anglican Network in Canada (ANIC).  Rita is retired from the Civilian Military and Herman recently retired as a Fishery Officer with the Department of Fisheries and Aquaculture.  They are active members of St. Stephen the Martyr Church, presently serving as Eucharistic Ministry Co-ordinators as well as in other leadership roles.  Herman is hopeful for the future of both St. Stephen the Martyr Church and ANIC in general.  He believes that because Jesus is our Inspirer, Empowerer, Guide, Protector and Saviour and the people who make up St. Stephen the Martyr are faithful, generous and committed, we will continue to be vibrant as we face a world filled with uncertainty.  As Clergy Warden, Herman welcomes any suggestions or concerns any member of the congregation may have.
Synod Delegate
Gil Pritchett
Gil, as we fondly call him, is a retired member of the off-shore management team.  Gill became a lay reader with the Anglican Church of Canada (ACOC) in 1959.  Throughout the ensuing years he served in leadership roles in various parishes.  Gil and his wife Daphne of 51 years left the ACOC to join with the founding members of the ANiC Parish of St. Stephen the Martyr.  Gil has continued as a lay reader with our Church and both him and Daphne are Eucharistic ministers.  Gill invites any who would like to experience the never ending love of Jesus and the overpowering presence of the Holy Spirit to attend services at St. Stephen the Martyr.

Secretary/Treasurer  
Lois Drover
[email protected]
Office: 709-781-5631
Lois, married to Wayne, has been a parish secretary and treasurer for many years.  Unpaid in this position, she considers it a labour of love for the Lord and her parish.  As administrator, Lois plays a major role in keeping the "wheels' of parish life turning.  A task is never too great for Lois!
MEMBERS OF PARISH COUNCIL